Poetry of the Wild
invites the public out for a walk to see their world anew through the keenly felt perspectives of poets and artists. Using a unique presentation of "poetry boxes" that combine art and poetry, the project serves as a catalyst for exploring our towns and considering how place informs mindfulness. The public becomes engaged by finding the boxes which are sited as a network on mapped trails, reading the poems, and responding in the public journals contained in each.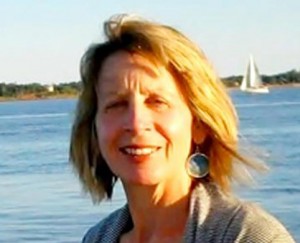 The sculptor, Ana Flores
created
Poetry of the Wild
in 2003 while she was the first artist in residence for the Wood-Pawcatuck Watershed Association in Southern Rhode Island. Her mission was to use the arts to foster public awareness and stewardship of the land and waterways protected by the Association. That first project had a dozen boxes created by students from area schools, members of the environmental group and other artists. The public response was overwhelming during its three month tenure. It turned out that many people roaming the trails were poetic– but they had had no place to express themselves. Journals were replaced three times and the trails leading to boxes also became less littered. After the de-installation of the boxes, the association had a poetry reading and an auction. The reading was hosted by the Poet Laureate of Rhode Island at the time, Tom Chandler. Since that first project,
Poetry of the Wild
has traveled to many new geographies, from urban to rural, from New England to Colorado. In 2012 it went overseas for the first time to Dartington, England. The sustainable, flexible template that Flores created continues to encourage many levels of meaningful participation. Each new community enriches the template: Colorado Springs used local poets for the first time, they also published a chapbook of the project. New London, Connecticut introduced the idea of putting boxes in the library at the Dewey decimal address for English poetry: 811. New London was the first place a poetry walk was used to initiate the project. Mystic, Connecticut, had the most local poets involved, ranging in age from 9 to 80 years young.
For more about Ana Flores' work visit:
earthinform.com
The Poetry of the Wild project is done as an Artist Residency with Ana Flores and robust community participation. Flores has twenty years of experience as a public art facilitator, artist-in-residence and educator in the United States and abroad. For the Poetry of the Wild project she uses different formats for residencies, depending on the communities, their needs, time line, and the where they are located. Contact Ana to learn more about the project and how it could be suited for you and your community.