The Tubac Center for the Arts
is the sponsor but many partners are involved. I'm working with a remarkably talented and enthused community in Tubac and poets in Green Valley, Arizona. The Poetry of the Wild project will be installed along the Anza trail in SW Arizona, a
historic trail first blazed by Juan de Anza
to bring Spanish settlers up from Mexico to the West coast to what is now San Francisco California. The trail in this part of Arizona is also a great destination for birders since it parallels the Santa Cruz river. The energetic
Anza Trail Coalition
headed by Carol Butts will be managing the installation beginning on March 2. The project officially opens with a poetry walk to a number of the boxes on March 7th.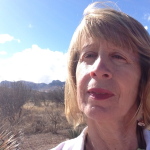 As always I feel very fortunate to work with each community but this project is especially meaningful since its connected with the first project I did in 2003. That first project was at the Wood-Pawcatuck Watershed Association, the founders of that environmental group, Ed and Linda Wood, are now seasonal residents in the Tubac community. It is thanks to the Wood's enthusiasm and support that the project is now traveling into this fascinating landscape. I've always considered myself a coastal dweller but after this the recent immersion into the desert hosted by people who are so passionate about place the desert is becoming very alluring. I look forward to returning in March to install and to see the desert and the project beginning to bloom.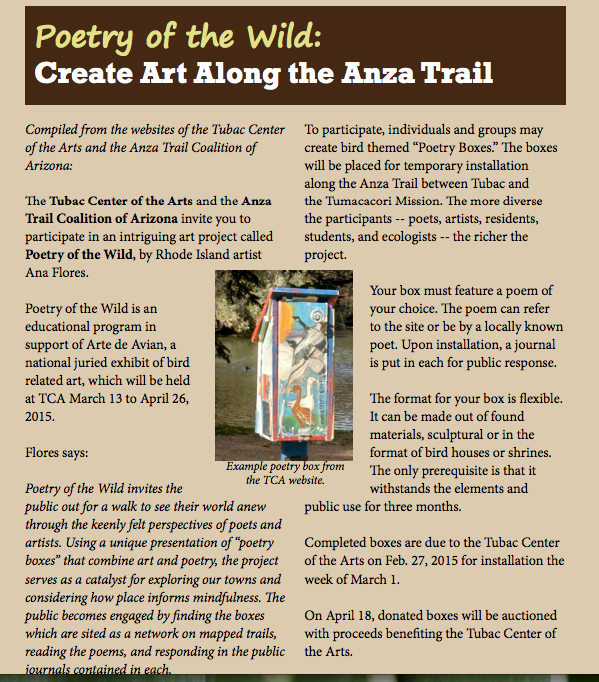 Another notable fact is that The Tubac project and the upcoming Block Island project will bookend each other. The Block Island project sponsored by the
Block Island Poetry Project
gets launched next week, its also the first time Poetry of the Wild has been back in the state since it began.  Field notes from Block Island very soon.
I've just recently returned from the borderlands between Arizona and Mexico, a place of great drama, beauty, and epic history.