Poetry of the Wild heads west to St. Louis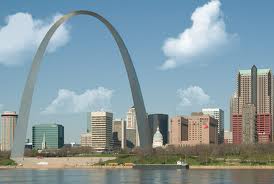 In early February I'll be flying out to St Louis invited by Gallery 210 at the University of Mo/St. Louis. The gallery is located on the urban campus of the University.  The last time this project went West was to Colorado Springs in 2006, a very different landscape than St. Louis. St. Louis is the site of confluence for the  Missouri and Mississippi rivers, and originally a French settlement- named after King Louis IX. The area was not transferred to the United States until 1803 during the time of the Louisiana Purchase.
This trip will be a one week residency during which I plant the idea of the project with a few different community organizations. The chief coordinator in St. Louis will be the director of Gallery 210, Terry Suhre. Terry is an energetic, passionate, and excellent curator who I've worked with in the past (he exhibited a sculptural installation of mine in 2006). Terry is also very engaged in the St. Louis community and I look forward to seeing how our initial partners list expands to include other citizens and communities in the city- it always does. Right now our list includes graduate students involved in the MFA writing program at the University, they will be coordinated by Jennifer Goldring, a practicing poet and graduate student. I will also be working with numerous high schools including the Grande Center Art Academy community located in the heart of the Grande Arts Center district. In February I'll have time to walk and explore the city with people who know it well. This is always a great pleasure for me– to see a place through the hearts and minds of its passionate, creative residents. Our walks will determine the sites for the public trail of boxes.
By April we hope to have two dozen poetry boxes, a collaboration between St Louis based poets and artists, ready for public installation- with our permits all in place. Only two boxes will be done by me. The boxes will–as always– include journals for public response. Poetry of the Wild/St Louis will be installed just in time to coincide with the Monument/Anti Monument International Sculpture Conference happening in the city on April 10-12th. This promises to be a fascinating symposium exploring the value of sculpture in the public realm. Poetry of the Wild will stay up into July.
Stay tuned for the next report from the field- in February.