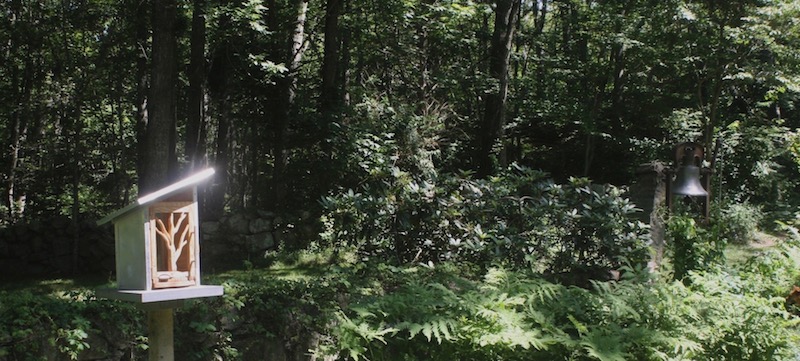 This summer I had the opportunity to do  two projects that were exceptions to the community orchestrations which usually characterize Poetry of the Wild. After installing an
ambitious project in Newport, Rhode Island
with many partners and participants I changed gears and began work on two quieter projects that were done as unique commissions. One was a project abroad in Barcelona Spain. A poetry box was completed during a one week residency at
Jiwar, an international artist residency i
n the Gracia District.  The
process was full of wonderful inspirations
and the challenge of completing a project in a short time. The second box was commissioned by the Wood-Pawcatuck Watershed Association as a gift for environmental patrons, Ed and Linda Wood, who live in Hope Valley, Rhode Island.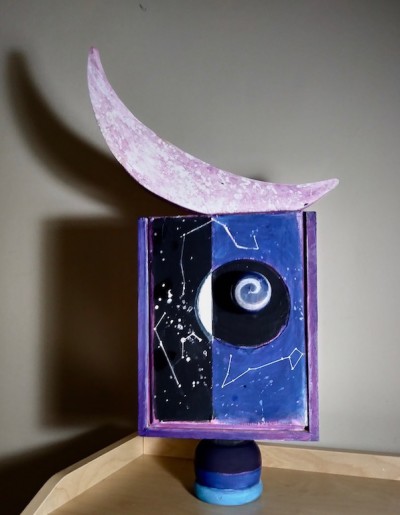 The choice of poets for each of these was also noteworthy, the box for Barcelona featured a poem by 
Humberto Ak'aba
l, translated by Miguel Rivera. Ak'abal is a Mayan poet from Guatemala. I first learned of his poems at the 
Great Mother conference 
started by the poet Robert Bly. I was one of the presenters and a fellow presenter, Miguel Rivera, was Ak'abal's major translator. Rivera had been urged to translate Ak'abal by Robert Bly. During the week-long conference Miguel recited numerous poems by Ak'abal which  I found very compelling. The week before I left for the residency in Spain, the translated poems of Ak'abal  
Poems I brought down from the Mountain, 
landed as a gift from Miguel at my door. The timing was perfect. I was searching for a poet for the project in Barcelona and I found Ak'abal's powerful poems steeped in ancient wisdom a perfect offering to bring back to the "Old World". The poetry box for Barcelona featuring his poem, La Luna, will be installed at the beautiful and busy library in the Gracia district of Barcelona from October to December of 2017.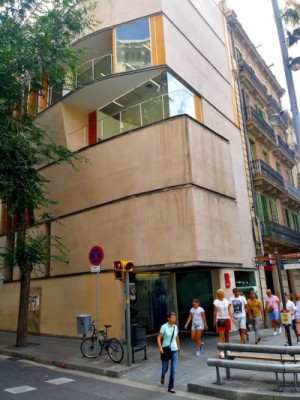 The permanent poetry box made for the Woods was a special collaboration between the patrons, myself and the poet, Noah Warren.  The Woods are no strangers, they are friends and mentors. Their example of environmental stewardship and community generosity has been a constant lesson for me and many others. Ed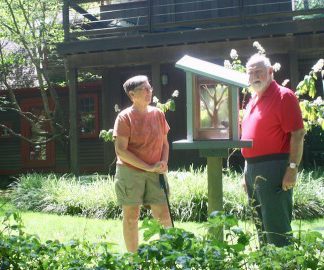 and Linda had two requests, they wanted a design that would allow them to switch out poems, and they also wanted the first poem to be by Noah Warren. Noah is our son, and a serious young poet, in 2015 he won the
Yale Younger Poets Award
. For the project, Noah wrote a new poem entitled
Visit
which resonated beautifully with the setting and the Wood's sentiments for their garden.